Written By
Mehwish A
·
September 25th, 2019
Blogger at Love To Slay
Freshers Beauty and Makeup Guide
You've bought your first ever set of pots and pans, you've sorted out your finances and you've had your last night out with your schoolmates – you're officially on your way to university. If you're starting university this year, it can be one of the most exciting times but also the most nerve-wrecking.
Your first week in university – or Freshers Week – will be filled with meeting new people, playing every single drinking game ever created and witnessing some of the most impressive acts of fancy dress you'll see all year. And while the most important thing is to have fun and make new friends, you should also remember to look after yourself (trust us, Freshers Flu is a real thing).
As with all life changes, it's so hard to know what to expect and the last thing you need is your skin to play up! Fear not though, we've put together some of the best health and beauty tips and tricks, so that your skin can survive freshers week – from simple skincare to affordable beauty products that will have you looking gorgeous in no time at all, we'll help you look and feel your best all week.
1. Drink Lots of Water / Stay Hydrated
This is vital! It may not be exciting but remember to drink water throughout the day and at night. Recommended guide is about 6-8 glasses. This will help your concentration levels during lectures and help your skin to stay clear. Drinking water rather than sugar-packed drinks also will benefit your skin. When you drink water every day, you are flushing out toxins. This is good for your skin, too!
You should also remember to keep your skin hydrated by a couple moisturisers that are mostly affordable. Either from brands like Olay or Simple can be used every morning to moisturise, tone and protect the skin against the damaging effects of everyday life. Each night apply Simple Vital Vitamin Night Cream to help restore and replenish skin throughout the night (no matter what you've been up to!) or use the Vichy Quenching Mineral Mask for extra hydration.
Bonus Tip: Add a slice of lemon to your water for an extra detox kick!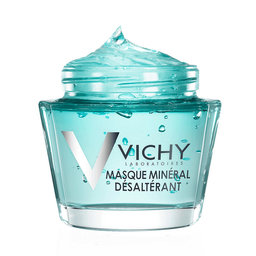 2. Eat right
After Freshers week has passed, try to avoid the cliché freshers' diet of pizzas, burgers and kebabs. If you feel like you might be missing out on some key vitamins, try taking Multivitamins that are suited for you.
Eat as many fresh, whole foods as you can, and lots of berries and carrots. Your skin will benefit from this.
Why? Berries are thought to help the skin boost collagen production. Plus, many berries are packed full of antioxidants to help combat free radicals. They also contain Vitamin C and Vitamin E, which are beneficial to the skin. Carrots are rich in beta carotene, which gets converted to Vitamin A in the body. They are also rich in Vitamin C.
Eating your 5 a day of either fruits and vegetables is not only healthy for your body, but it's also something you can do to make your skin radiant and healthy.
3. Never ever go to bed with your makeup on
This is one of the worst things you can do for your skin, no matter how late you get in or how lazy you feel. Your pores will become clogged and the environmental toxins, debris and excess oil will sink in. Over time, this will result in a dull skin tone, acne breakouts and skin looking older than it is. 
Start by removing surface dirt and light makeup from your face with the Simple Micellar Water Cleansing Wipes. Then go ahead and double cleanse by using the Simple Kind To Skin Hydrating Cleansing Oil to get rid of the excess makeup, impurities, oil and grime, followed by a facial wash.
Bonus Tip: If you follow this advice, when you are in your 30s and 40s, your skin will look better if you do this now at 18.

4. Wear sunscreen
This is the best precautionary action you can take. This is a non-negotiable step to your skincare routine. Not only will you help protect yourself from skin cancer, but your skin will look younger years down the road because it won't be as damaged by UVA and UVB rays.
This is one of those tips that you may not see an instant benefit from however think of as 'insurance for your skin'. While you may not reap the visible benefits now, in the long-run, it'll pay off. There's plenty of moisturisers with SPF that you're able to use in your morning routine. We recommend the Neutrogena Hydro Boost City Shield SPF Moisturiser or La Roche-Posay Anthelios Invisible Face Mist SPF 50+.
5. Don't share makeup or makeup tools
It can be tempting to get ready with 'ya gurls' before going for a night out and share your makeup with each other, or quickly add a little more blush to their cheeks using a brush, or quickly top up their lips using your lipstick, but please do not do this.  
Sharing makeup is opening up the potential for serious infections down the road. You could get pink eye, acne, infections from just doing this. Products formulated with water are especially vulnerable to being a breeding ground for bacteria.
6. Include a regime in your skincare
Depending on your skin type, include a skincare regime in the morning and evening. Organise days on what days you use your masks: detox/clay masks, hydrating masks, sheet masks and DIY masks.
Research what's your skin type, and if you're a newbie to this, we recommend starter kits, to get in the habit of things. Start with the Avène Cleanance Anti Blemish Kit, Avène Sensitive Skin Saviour Kit, Dermalogica New Clear Start Kit or the Dermalogica Skin Kit - Normal/Dry.