Written By
Harmeet Sandhu
·
August 12th, 2020
Blogger at Love To Slay
There is no denying that we have all been hit with that "you've used your data allowance for this month" text at some point. For me, this is the case when I am out and about and need data more than ever. Imagine if I told you that you will never have to see that heartbreak text just by simply opting to an endless data phone plan. Which is why we are saying hello to VOXI.
VOXI is a no-frills operator owned and operated by Vodafone. VOXI comes with endless social media.
What does endless mean?
Endless means unlimited use. With Endless Social Media, you can enjoy unlimited use of your fave social apps without eating your data. 
What benefits does Voxi offer?

Endless social media: VOXI's unique offer means that you'll have unlimited access to the following approved social media applications:
Facebook
Whatsapp
Snapchat
Twitter
Instagram
Facebook messenger
Pinterest
You already know about having unlimited data and free data to use any social media so if that is not enough to convince you that VOXI is the carrier for you then let me just mention a couple more benefits that Voxi offers.
Endless calls and texts: With all VOXI's plans you'll enjoy unlimited calls and texts to UK numbers. This means you'll always be in touch with friends and family, and never have to worry about running out of the allowances that keep you connected.
What's more, you can also enjoy unlimited picture messaging to UK numbers, without extra charge. Photograph your day and share it via text with your VOXI plan.
Endless flexibility: VOXI offers flexible monthly plans. You will be charged every 30 days and can leave whenever you want. That makes it a perfect stop-over or a safe haven for those who don't love commitment.
Friends with benefits: Unlike the name suggests, this part of VOXI's benefits simply allows you to Introduce your friends to VOXI online, and for every friend you get on board, you'll both get a £10 Amazon.co.uk Gift Card. You can tell as many friends as you want and there are no limits to the number of referrals you can do. The more people you invite, the more £10 Amazon.co.uk vouchers you'll get - so don't be shy.
In addition to the endless social media which is included on VOXI's £10, £15, and £20 plans, there are two paid extras in the form of the Endless Video Pass and the Endless Music Pass.
VOXI's Endless Video Pass - gives you endless data use on Netflix, YouTube, Amazon, My5, TVPlayer, and UKTV Play.
VOXI's Endless Music Pass - gives you endless data use on Spotify, Apple Music, Prime Music, SoundCloud, and Napster. Yes, that means you can continue to watch cute videos of dogs and listen to your fave artists without using your data allowance.
Choose from 3 simple plans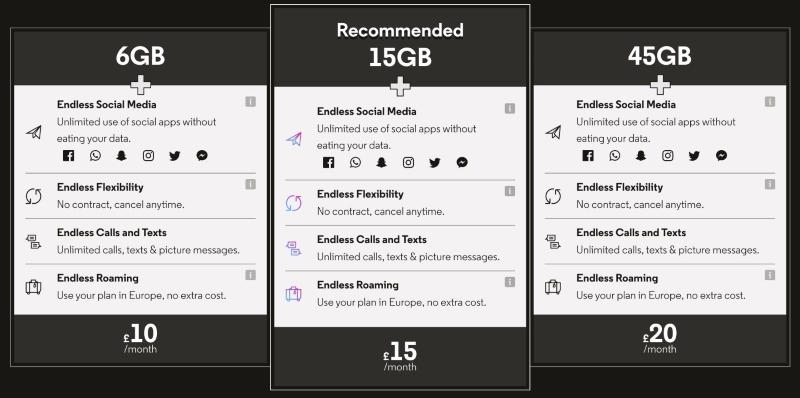 VOXI's wide range of 30-day SIM-only plans start at just £10 a month for a 6GB data plan and end at £20 for 45GB. 
*Making and receiving voice & video calls are not included on your Endless Social Media, T&CS apply.
 
Endless Possibilities with 5G

VOXI has an amazing deal where you'll get unlimited calls, texts, and data for £35 a month. This is a PAYG plan with a monthly bundle that includes unlimited everything, and this has a couple of advantages. 
Firstly, you'll be paying for your service BEFORE you use it, which means there won't be any surprises. Your plan automatically renews itself each month. Going abroad? (Or maybe sometime next year...) You can use your plan at no extra cost in 48 countries. 
Lagging and lost connections will be the things of the past.
Don't want to lose your existing number? We get it, it took far too long to memorise. 
You'll get a new number when you join VOXI - but don't worry, you can easily swap back over to your old number, simply send a text to switch it over.
 Ditch your network without drama. 
Plus VOXI is powered by Vodafone, so you can be sure of fast and reliable network coverage whether at home or abroad.
Also, VOXI was crowned 'USwitch Best PAYG Network Winner 2020'! 
So fancy joining in on an award-winning network? Then head over to Love To Slay here and try VOXI out for yourself and bag yourself 800 Slaybucks in your account for doing so!