Written By
Jess Hillyard
·
June 18th, 2020
Blogger at Love To Slay
EASY Pride Rainbow Make Up!
Hey lovelies! I hope you're all staying safe and well 😊 Happy Pride Month! I'm back at it again with a new simple, bold pride makeup look that only uses 2 products so it's well easy if you ask me! :D
The products I used were a white crème concealer such as the Urban Decay Stay Naked Pro Customizer - White or the KVD Lock It Concealer Creme (this is the one I actually used) and the Morphe - James Charles Artistry Palette although this could be substituted for any palette with bright bold colours! I'll pop a couple popular examples here:
Beauty Bay - Bright Matte 9 Colour Palette
Illamasqua Artistry Palette - Experimental
Juvia's Place - The Zulu Eyeshadow Palette

So today for you I have created a bright bold pride makeup look that's so easy to create and I'm going to explain how to do it!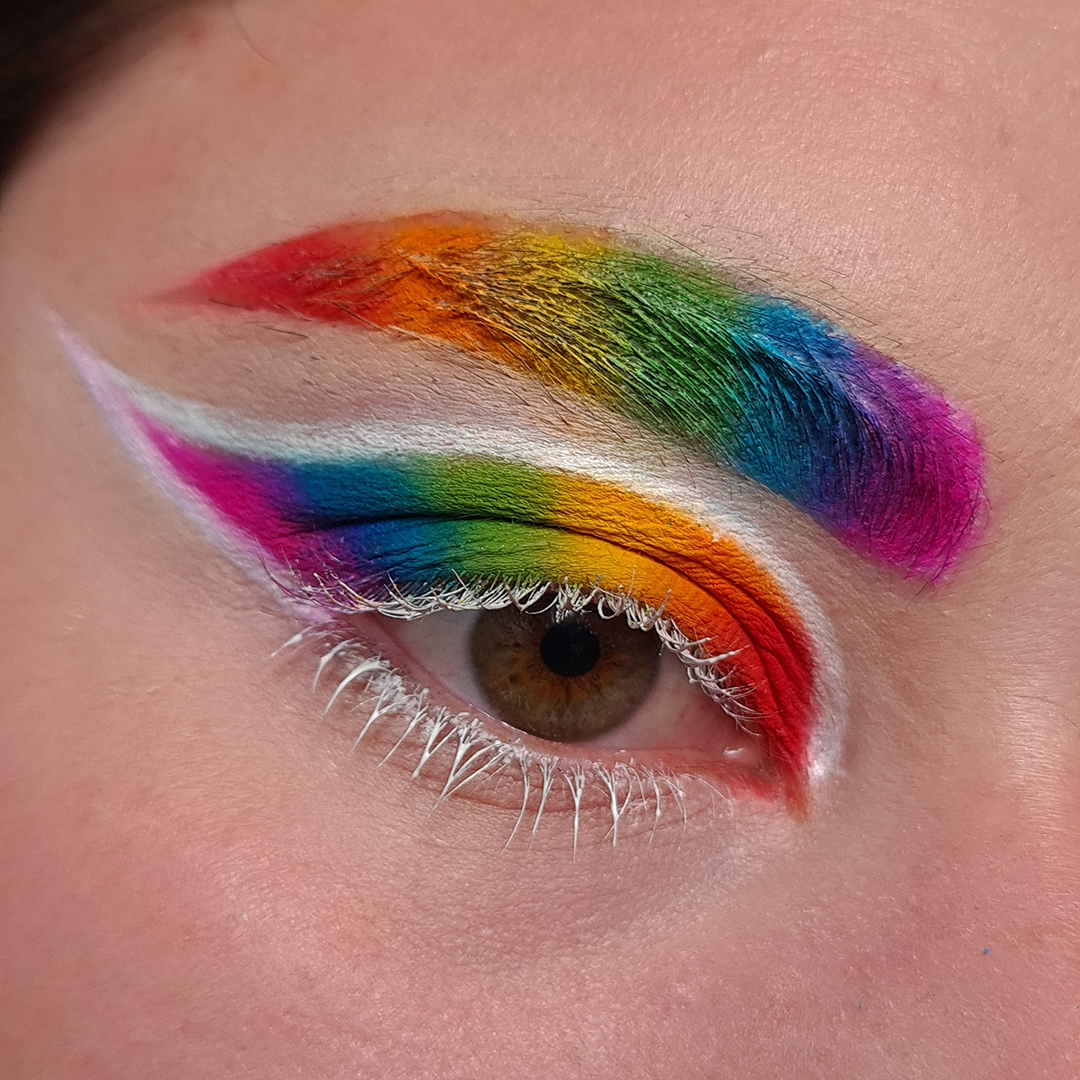 There are a couple of things I did for this look that you could leave out to make this super wearable, such as the white mascara and rainbow eyebrow. It does look fabulous all together though 😊
Firstly, I used the

KVD Lock It Concealer Creme

to carve out my lid, I basically carved the shape I wanted the shadow to be, I chose an almond shape to elongate my eye and I make the 'crease' nice and high so the colours are still visible when my eyes are open, this is a trick I use all the time!
Like this –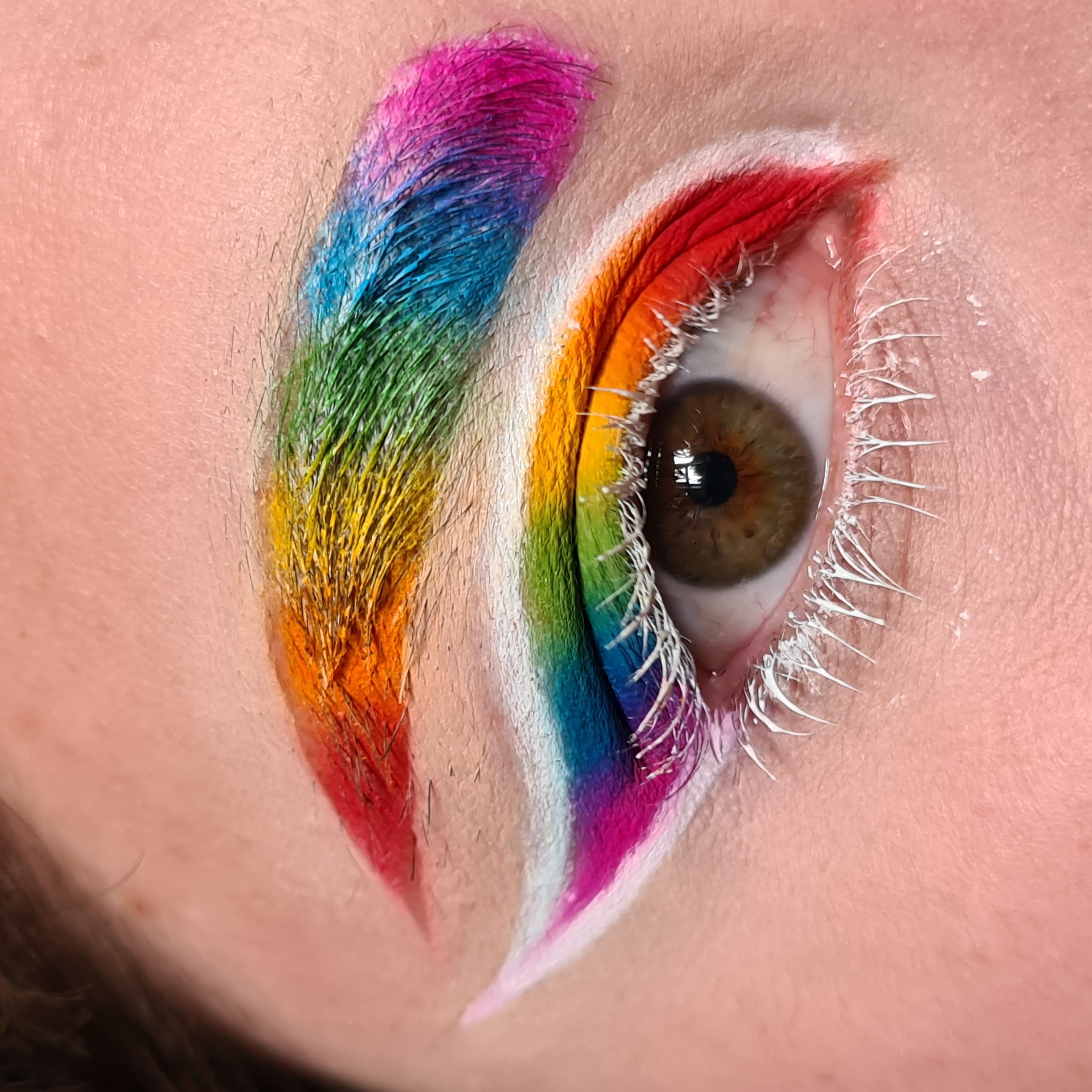 Next, I popped the shadows on with a packer brush like the Morphe M153. This keeps the colour bold! Starting from the inner corner I used shade
You're Kidding –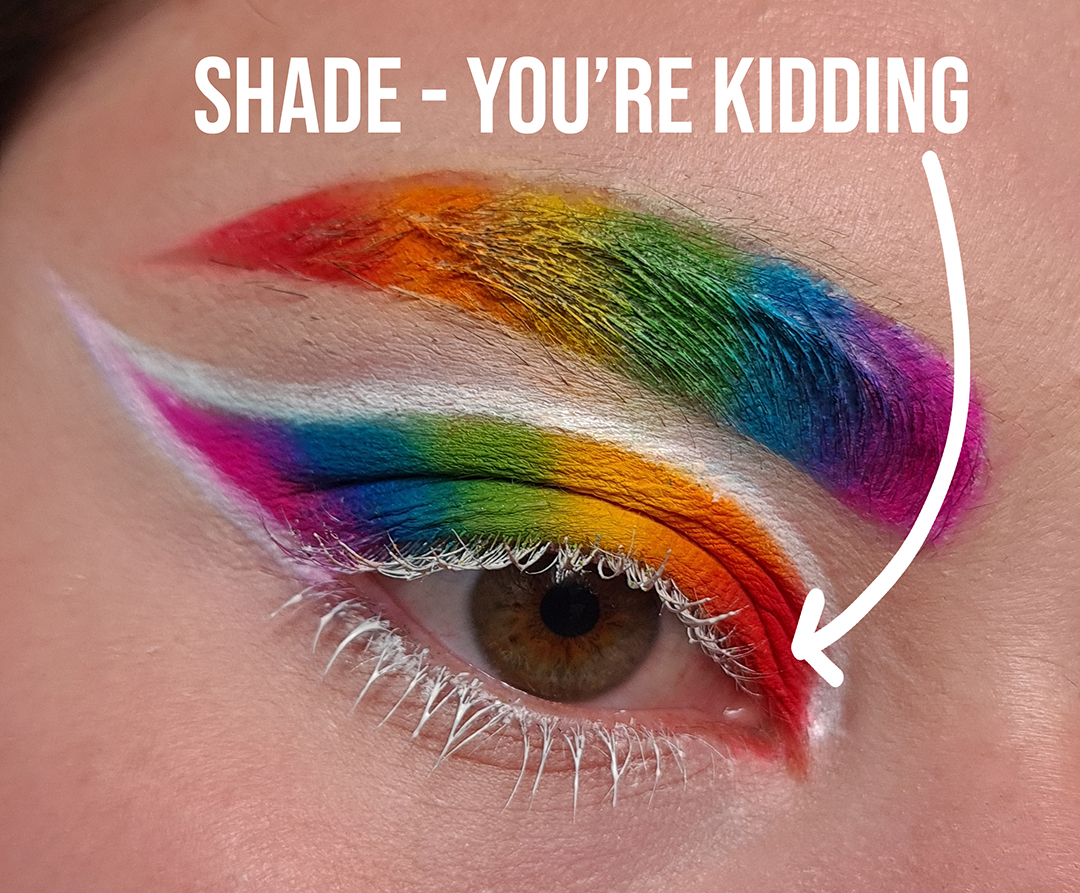 Next was the shade 518 –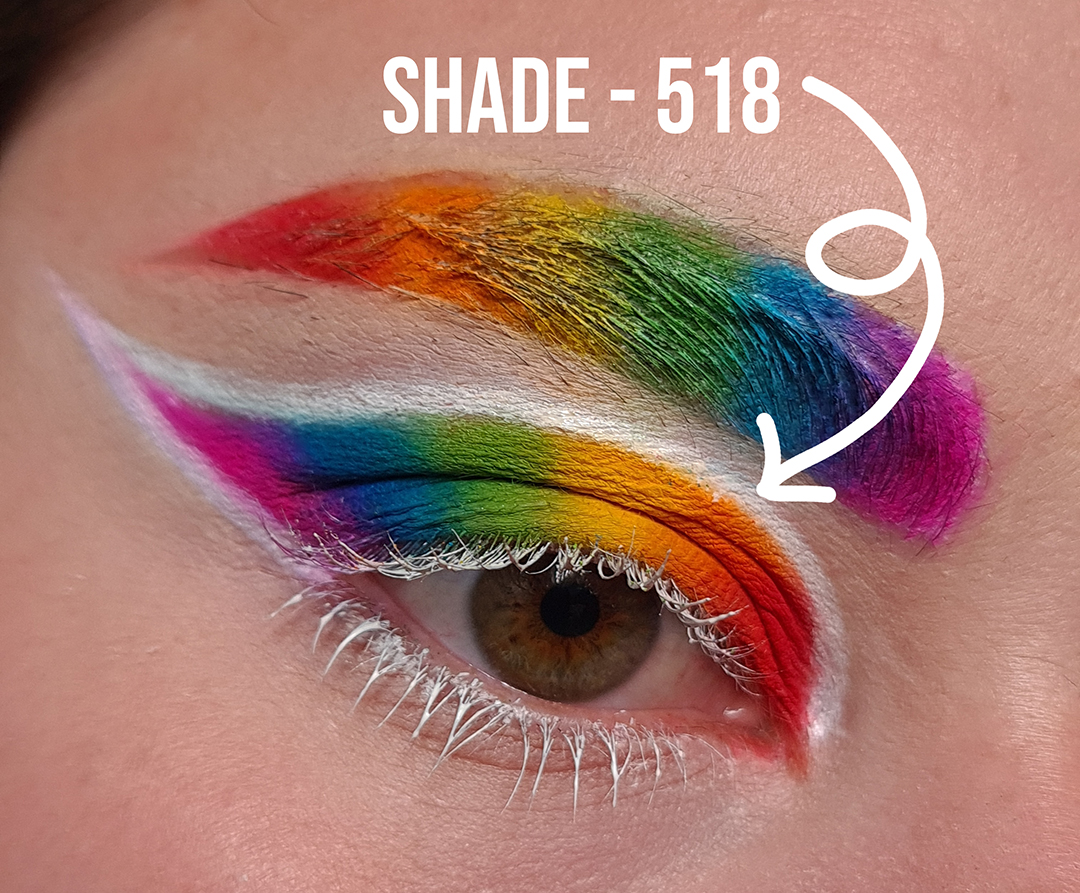 Next to 518 I packed on the colour Bee –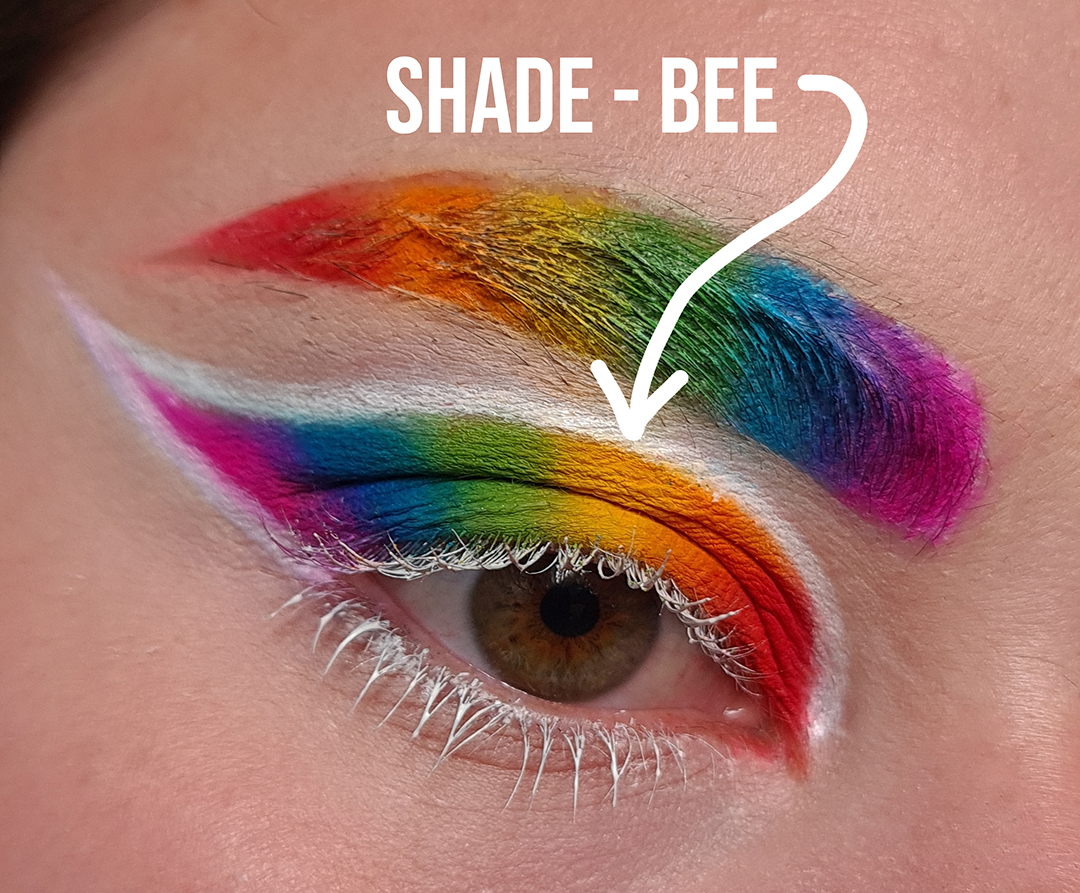 For the green shade I used Social Blade –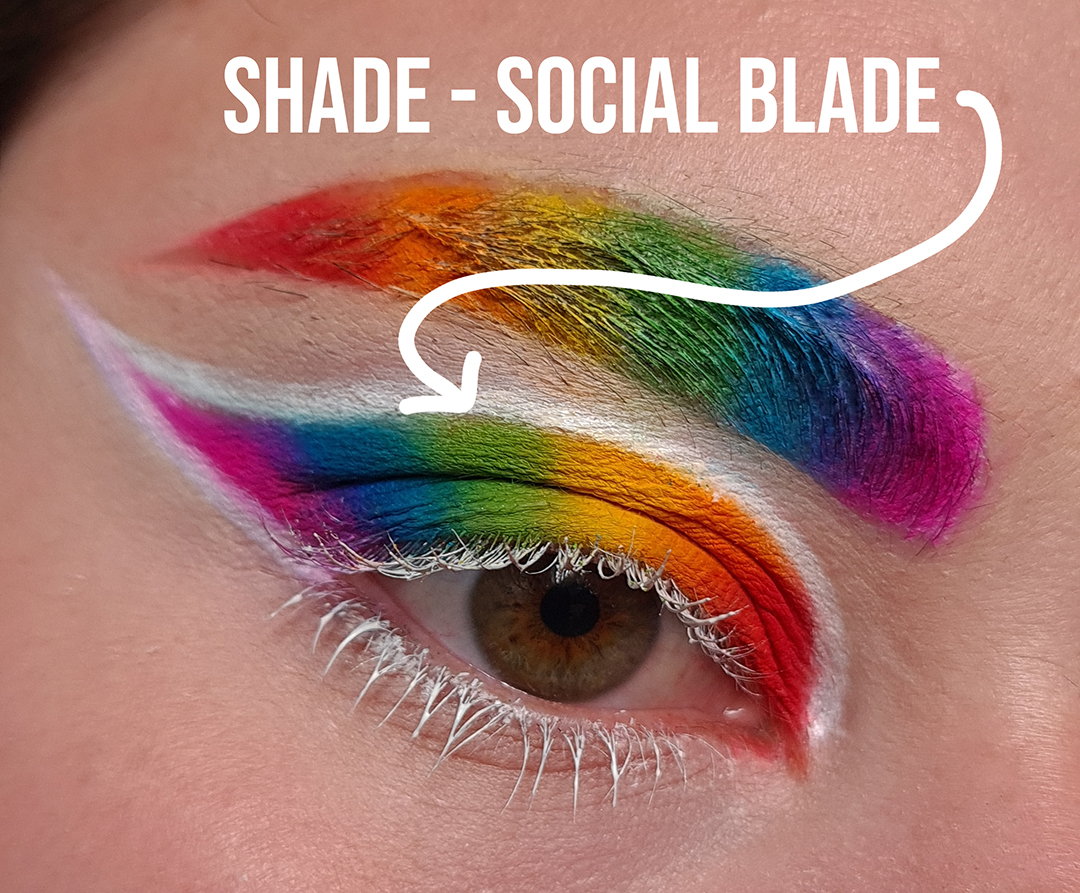 For the blue shade I used Playground –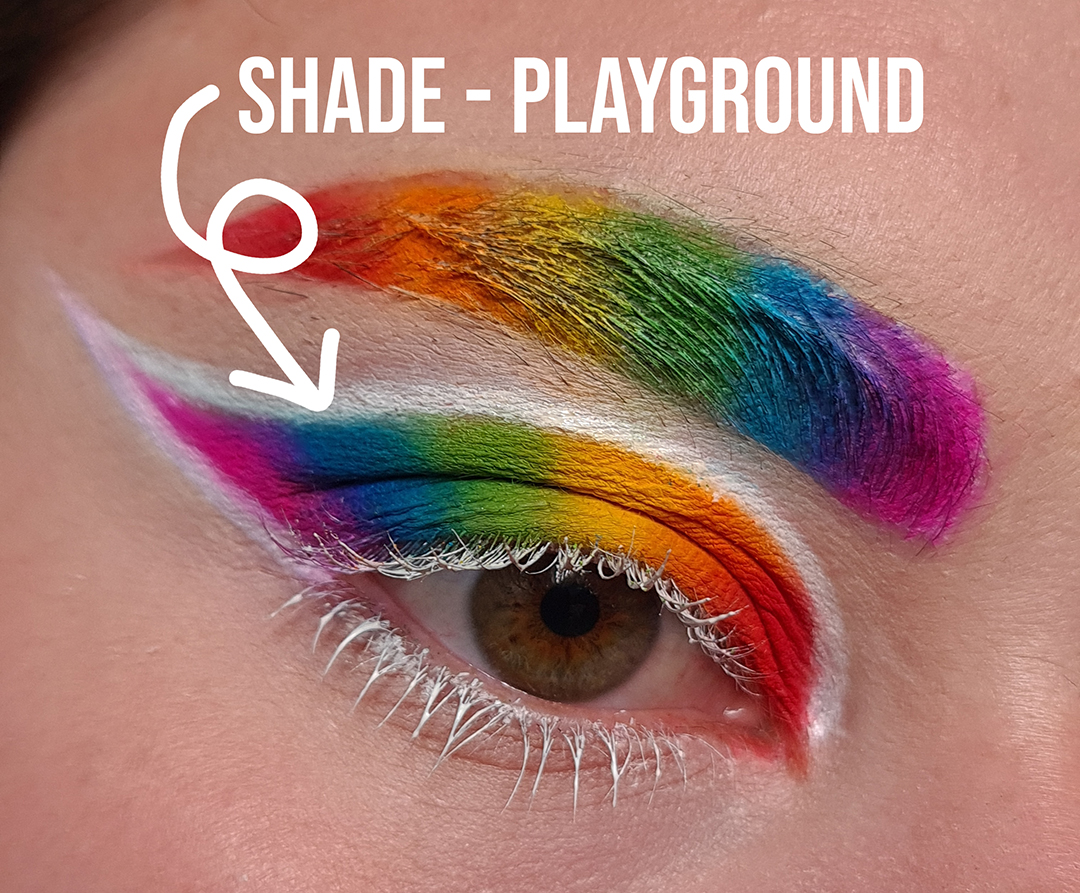 Lastly, the brightest shade in the palette, the pink shade Skip –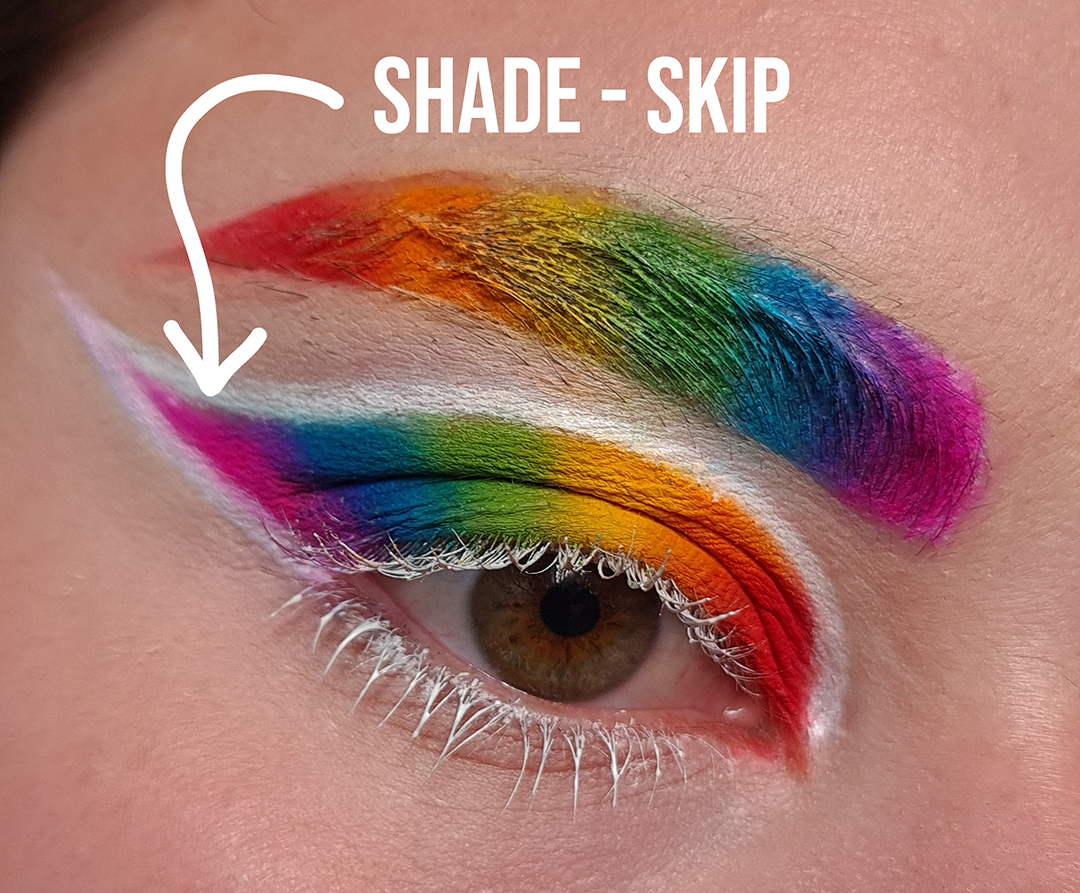 For this look you don't need to be an expert at blending as it doesn't really require it 😊 if the colour is bold and each colour is right up against the next it'll look fab!
I did choose to trace around the shadow with a white line, I did this to clean up the edge of the shadow! To do that I grabbed an angled brush such as the

Morphe M165 Angled Liner Brush

to help get a nice thin line. I popped a little bit of the

KVD Lock It Concealer Creme

on the back of my hand and dipped my brush in, ensuring the brush wasn't overly saturated with product (you can always add more, it's quite hard to take away especially after all the hard work putting the coloured shadow down). I carefully traced round the shadow and connected that at the corner outer of my eye!
If you wanted to stop there you could pop on some mascara and you're ready to go! Although if you wanna be a bold B you could include your eyebrows too.
I have dark eyebrows, so to help the colour pop on my eyebrow I used a spoolie brush dipped in my

KVD Lock It Concealer Creme

and brushed this through my brow to create a lighter stickier base for the shadow, basically the same technique we used on the eye.
Next I laid the shades down the opposite way to the eye (with Skip at the front of the brow) using a slightly smaller packer brush like the Morphe X Jaclyn Hill JH41 All Over Lid Brush. Once I'd laid all the shadow down I cleaned up the shape with some of my Makeup Revolution Conceal and Define Concealer and a small angled brush.
Finally, I popped on some white mascara and I was done!
This look is quick and easy especially due to the fact only 2 products were used! Don't forget you can get the James Charles x Morphe Artistry Palette on Love To Slay for just 4000 Slaybucks 😊 We are always adding new and exciting ways to earn Slaybucks so make sure you are checking the Earn Makeup tab frequently!
All the best lovelies,
Jess x