Written By
Mehwish A
·
February 28th, 2020
Blogger at Love To Slay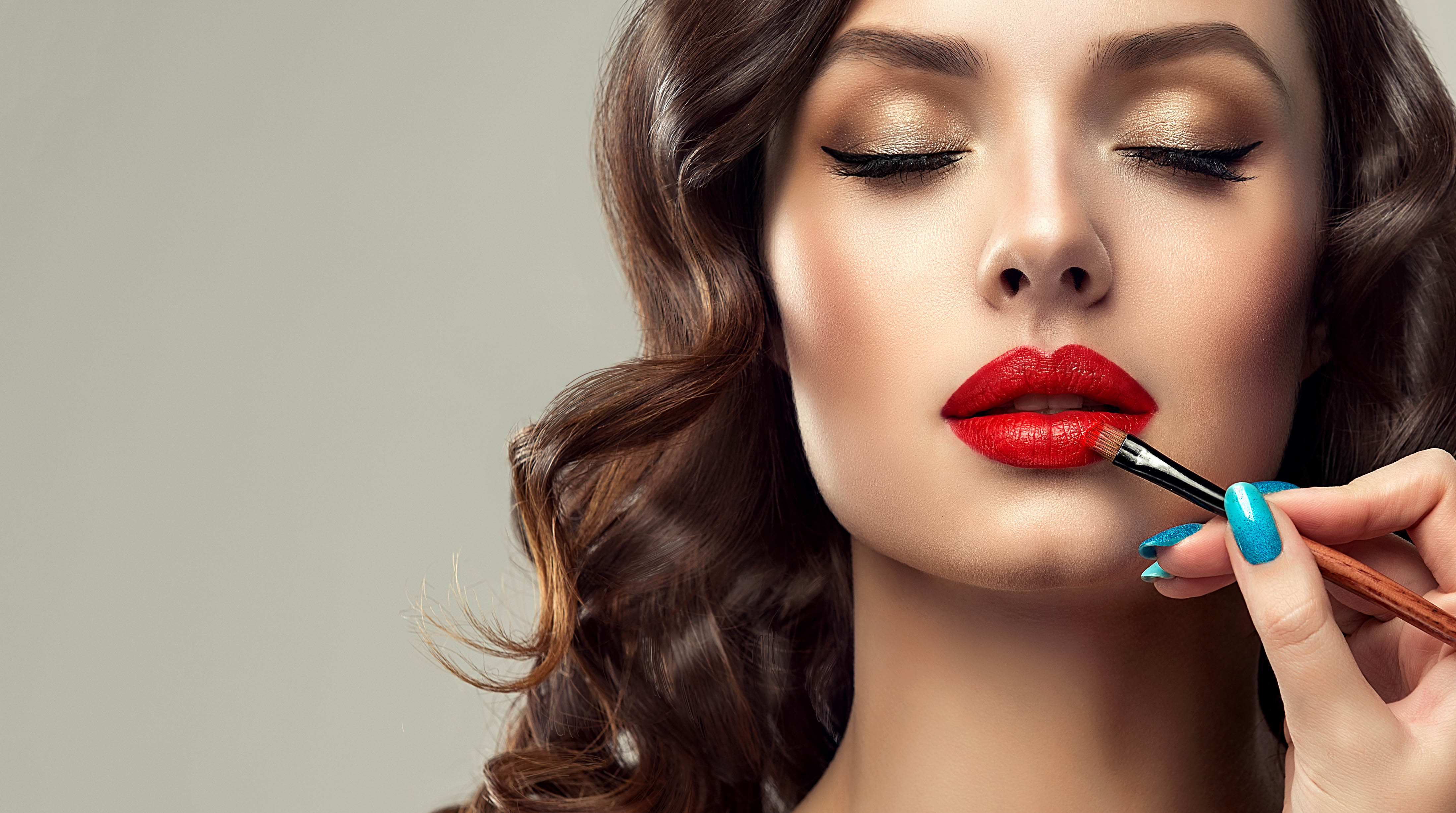 You can't get much more classic than red lipstick. After all, it's one of the (if not the number one) most traditional of all makeup products, having been worn by countless influential figures and characters throughout history. In our lifetime, it was the first piece of makeup we played with as a child and one of the first products we purchased as young adults. It's dynamic, bold, and confident; its power can't be overestimated. So, yes, we love red lipstick and the statement it makes—whatever that statement might be.
So while the answer to the question Should I wear red lipstick? is simple (hint: yes, always), picking the right shade isn't. That's because all red lipsticks aren't the same—not even close. Sure, there are a rare few that most people agree to be universally flattering, such as MAC Ruby Woo Lipstick and, more recently, Rihanna's Fenty Beauty Stunna Lip Paint, but as for the rest of the red lipstick market, it's vast and finicky. It helps to have a few suggestions before diving into the depths on your own. That's why we put together a list of the 16 best red lipsticks ever created!
Best iconic red lipstick: MAC Ruby Woo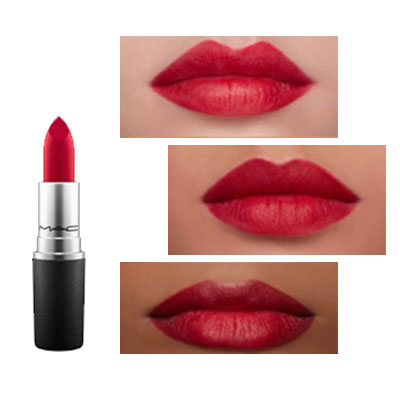 This is the ultimate matte, cool-toned red lipstick that flatters most skin tones, from ultra fair to super deep. Ask any makeup artist what their go-to red lipstick is, and you can bet the majority of them will say MAC's Ruby Woo - it's a cult classic loved by the likes of Rihanna. This extra-matt texture makes your teeth look pearly white after just one swipe, and in our experience is guaranteed to gain you plenty of compliments. It can last up to eight hours without feathering or fading, too.
The Mini MAC Ruby Woo is available on Love To Slay.
Best all-rounder red lipstick: Gucci Rouge à Lèvres Satin Lipstick in 25 Goldie Red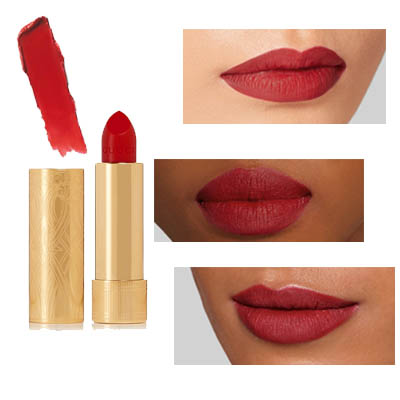 Gucci has managed to find the perfect red for all skin tones, and we can't get enough of this classic colour. It's designed to be layered, so you can wear one coat for a subtle slick of colour or add more for an intense pop. For that reason, we reckon it's one of the best all-rounders.
Best drugstore red lipstick: Revlon Super Lustrous Lipstick in Fire & Ice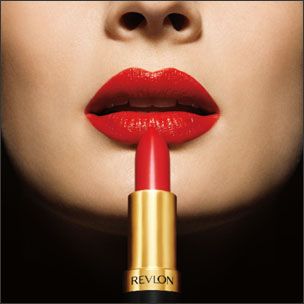 Revlon's Fire & Ice shade is freaking legendary. The red lipstick debuted in 1952 and continues to be a best seller 67 years later. Why? Because the vitamin-E-infused formula is ultra-creamy, and although it's a red, the shade has a slight orangey tint, which makes it ultra-bright and crisp.
Best dark-red lipstick: Chanel Rouge Allure Luminous Intense Lip Colour in 99 Pirate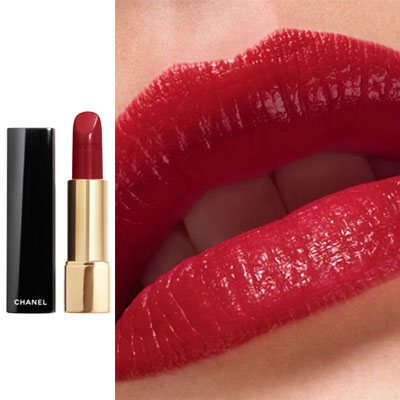 If you're in the market for a new dark-red lipstick, look no further than this iconic shade from Chanel. 99 Pirate is loved by makeup artists, celebs, and beauty editors for its ability to look gorge on all skin tones and not dry out your lips in the process. And the chic click-to-open case ensures it'll never open on its own and make a mess in your bag.
The best sheer red lipstick: Glossier Generation G in Zip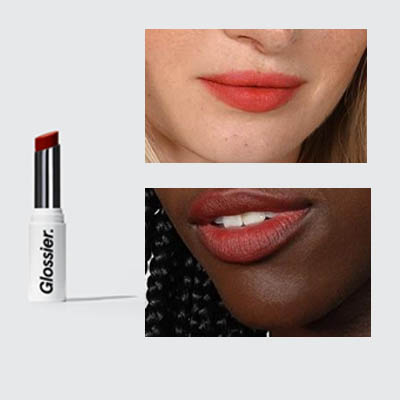 The brand's reformulated Generation G lipsticks are fantastic, and the red shade Zip just might be the best sheer red lipstick. This is an ultra-sheer orange-y red that gives you that low-maintenance blotted look with minimal effort. The new formulation is ever-so-slightly more moisturising but still sheer and balmy. Generation G is the ultimate "apply without a mirror" lipstick, but you can build the darker colours up to create a pretty bold, opaque look, and Zip is probably the most intense of the shades. Because the pigment is so sheer, the colour varies from person to person, but Glossier helpfully provides videos of people with different skin tones wearing it on its website to help you get an idea of how it might work on you.
The best hydrating red lipstick: Hourglass GIRL Lip Stylo in Icon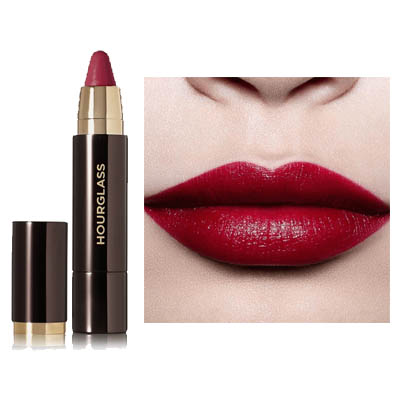 This is your classic blue-red shade with a slightly shiny (but not overly glossy) finish. The formula boasts a few hydrating oils that help create a flake-free wearing experience. The colour does slightly fade as you eat and drink since it's not a liquid formula, but it gently stains the lips so that they stay red for hours, and the glide-on texture helps smooth out the re-application process. In addition to Icon, the range includes three other reds: Visionary, a brick red; Innovator, a neutral red; and Lover, an orange-red. The shades look slightly different in the tubes, so check out swatches online or in person before you decide which is right for you.
Best shiny red lipstick: Giorgio Armani Beauty Ecstasy Shine Lipstick in 401 Hot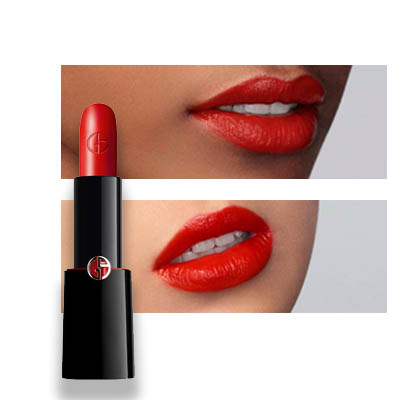 This top-rated red lipstick from Armani gives you the same pretty shine as a lip gloss but none of the annoying sticky or tacky side effects. Just swipe it on your bare lips and live your life.
Best red gel lipstick: Shiseido VisionAiry Gel Lipstick in Ginza Red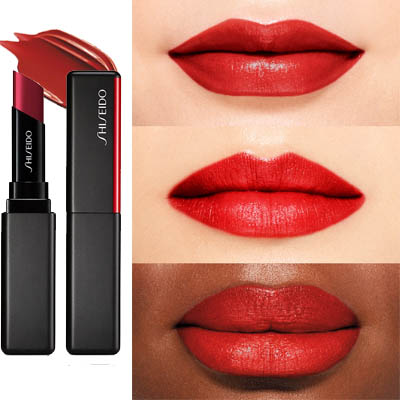 If you like your lip colour to feel like it's not even there, then you're gonna love this red gel lipstick from Shiseido. It is totally weightless, offers intense colour payoff, and is infused with water to keep your lips hydrated for hours.
Best waterproof red lipstick: Beauty Bakerie Lip Whip in Mon Cheri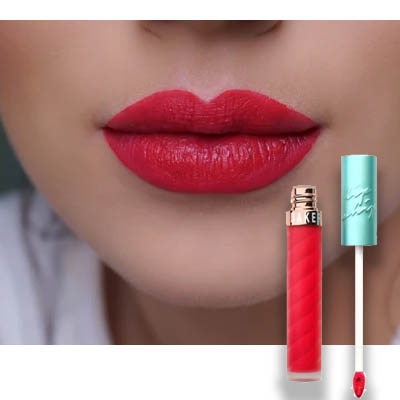 A one-swipe lipstick that will stay on so long that it can be left at home. Mon Cheri is a classic red lip, committed to staying put. Mon Cheri Lip Whip goes on liquid and dries matte. With full coverage in just one application, the pigmented classic blue-red is the perfect fit. 
The Beauty Bakerie Lip Whip in Mon Cheri is available on Love To Slay
Best intense red lipstick: Illamasqua Antimatter Lipstick in Asteroid & Midnight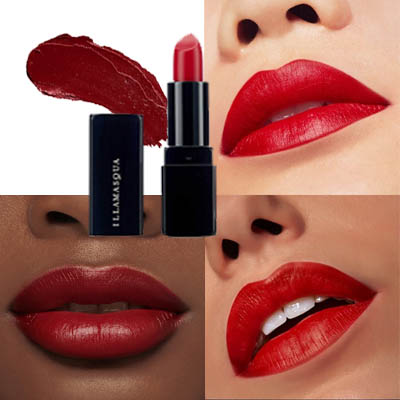 This long-lasting lipstick has an intense pop of colour that's ideal if you're feeling dramatic. Half-way between matte and satin, Antimatter lipsticks glide onto lips smoothly and provide comfortable continuous wear. The two perfect red colours for the intense red look are Asteroid and Midnight.
Best fade-proof red lipstick: Charlotte Tilbury Hollywood Lips Liquid Lipstick in Screen Siren/Ruby Red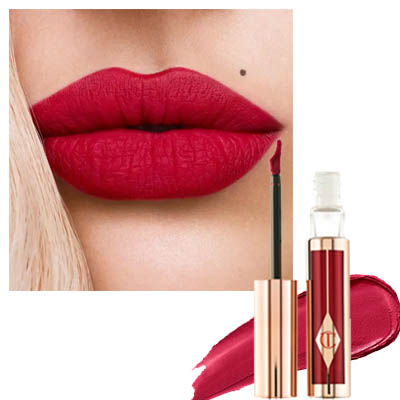 Carly, Cosmo's beauty director, swears by this fade-proof red lipstick from Charlotte Tilbury. Her words: "Once it's on, it's literally not going anywhere." The liquid formula lasts for HOURS without fading, smearing, or feathering, so you don't need to worry about touch-ups during the day.
Best Red Liquid Lipstick: Fenty Beauty Stunna Lip Paint Longwear Fluid Lip in Uncensored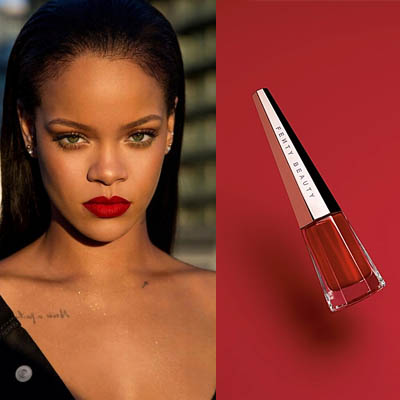 Vivid, head-turning, sophisticated, and mindful of all skin shades – we wouldn't expect anything less from Rihanna's first red lipstick. The beauty range was created with all women in mind; so whilst you can buy varying shades, this particular red is for us all. Well priced, increase the drama by adding as little or as much as you need. The lip paint has twelve hours worth of staying power, meaning you can wear it to the office and then top it up a little for after-work drinks.
The Fenty Beauty Stunna Lip Paint Longwear Fluid Lip in Uncensored is available on Love To Slay.
Best Shiny Liquid Lipstick: Stila Stay All Day Liquid Lipstick in Beso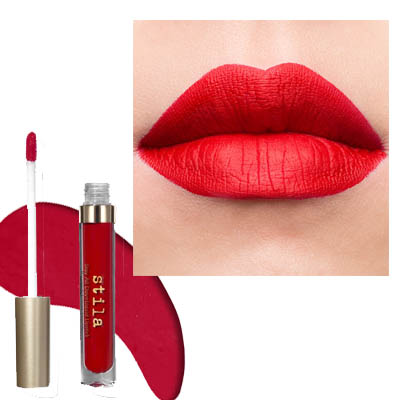 Stila's lip gloss gives incredible shine, thanks to its formula packed with light-reflecting crystals. It gives solid colour whether you wear alone or over lipstick and is enriched with hyaluronic filling spheres and luminous oils to give the appearance of fuller lips, and it's a true red that suits such a wide variety of skin tones.
Best red lips stain: Givenchy Encre Interdite 24 Hour Lip Stain in Radical Red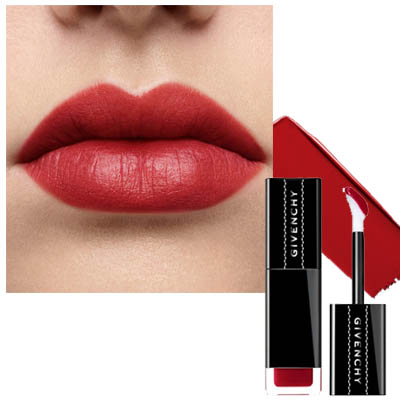 No shade to traditional lipstick, but lip stains are just as good. Stains feel weightless, don't wear off during the day, and are low maintenance. Current favourite? This bright-red lip stain from Givenchy. It's super lightweight and the colour still looks fresh hours after you've put it on.
The best red lipstick pencil: NARS Velvet Matte Lipstick Pencil in Dragon Girl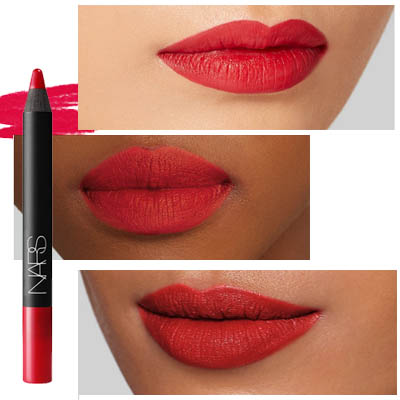 These pencils are easy to apply — not too chubby and not so thin they might as well be lip liners — and the velvet matte finish is so comfortable you might even forget you have it on.
Dragon Girl is probably the most well-known shade from this range. Described as "siren red" in the product description, the colour has an orange undertone. Because it comes in a pencil format, you can use it as a liner underneath another lipstick for increased staying power, or layer it on and wear it alone. One coat gives you that trendy, blotted velvet lip look. This formula comes in a few other reds, including another personal favourite — the deep, bold Cruella. But Dragon Girl is likely the most versatile, and a good "true red".  
Best red lipstick balm: Gucci Baume à Lèvres Lip Balm in René Pink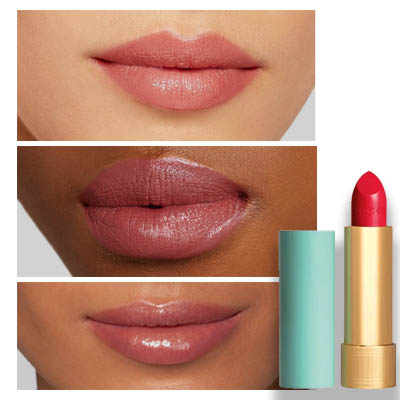 The hydrating formula melts right into your lips and leaves behind a sheer pinky-red tint that's perfect for everyday use. And can we just talk about the cute packaging?! Obsessed.
This guide has given you a selection of the best red lipsticks currently out on the market. If you liked the sound of these beauty products, visit our Choose Makeup Section to see what more hot products are listed. Want to Earn Slaybucks? Simple: by leaving reviews, answering surveys, starting free trials and then choose your makeup.