Written By
Jess Hillyard
·
September 15th, 2020
Blogger at Love To Slay
Revolution Beauty has brought out some extremely affordable products for the special effect's artists among us!
If you are tempted to dabble in the world of special effects makeup or you are just getting ready for Halloween this year, we think you'll want to see these products.
First product is the Makeup Revolution Halloween SFX Ultimate Face Paint Palette
This palette is just £6.00 and consists of 12 cream colours every colour you could possibly need to create a spooky Halloween look!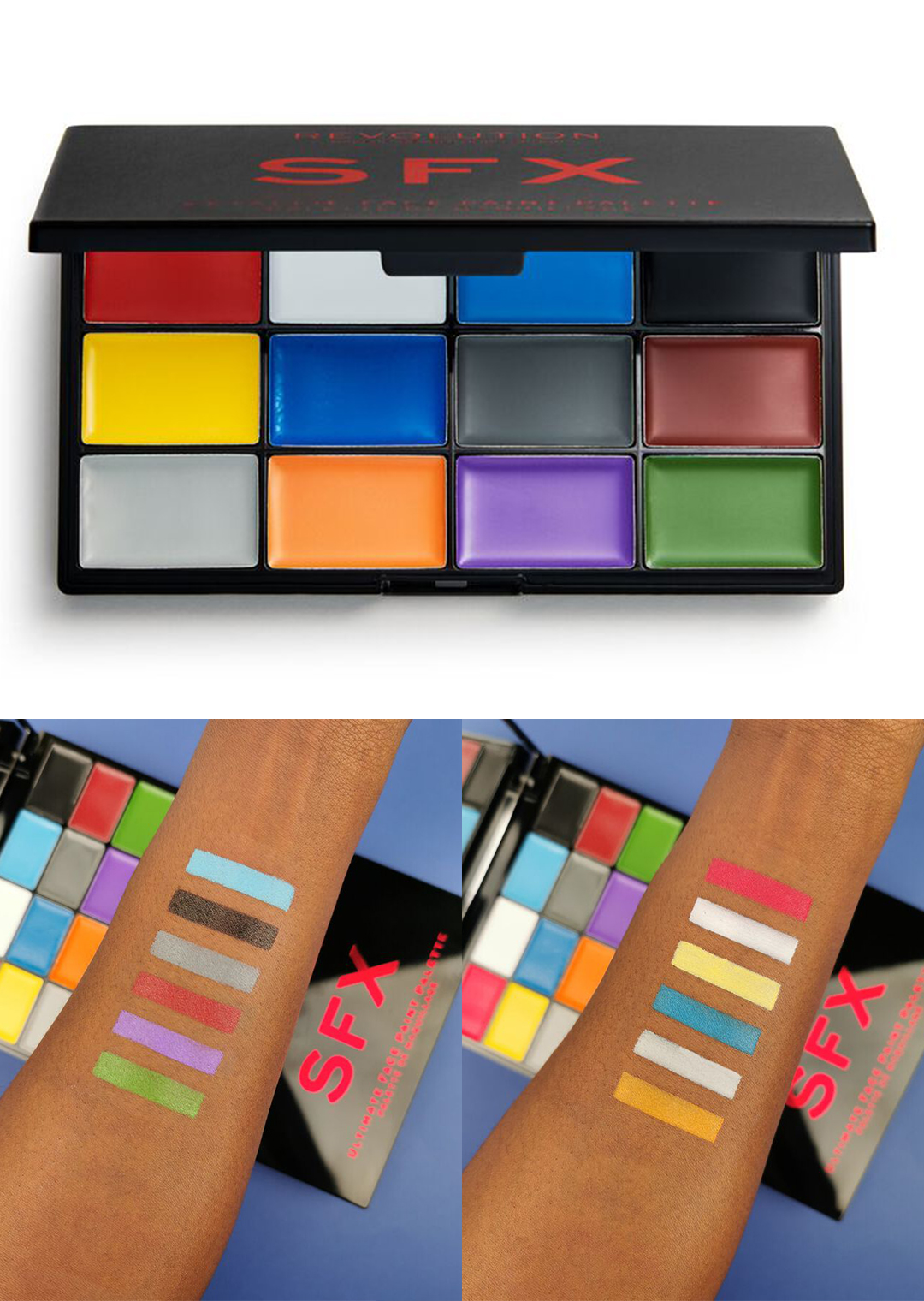 photo ref: https://www.revolutionbeauty.com/
Next is a Halloween themed product, although it can be helpful to create Halloween looks it can be used anytime!
It is the I Heart Revolution Book of Spells Eyeshadow Palette Curses and Hexes.
This palette costs £12.00 and consists of 18 soft matte and rich metallic shades. This palette follows a Halloween theme with some rich purples, dark blues and dark blacks. It is perfect for a Halloween spooky glam or everyday if you're a spooky queen all year round!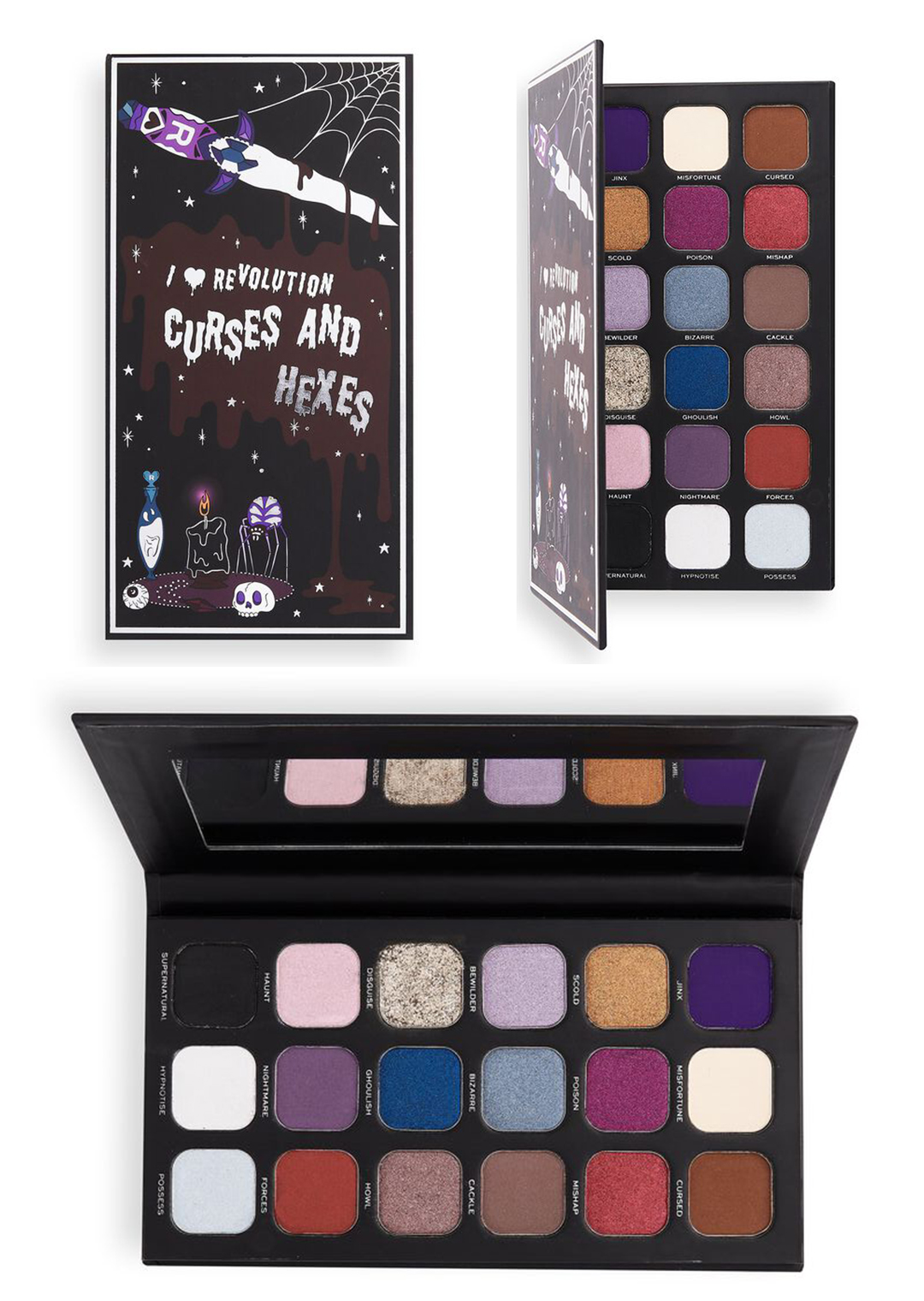 photo ref: https://www.revolutionbeauty.com/
Next is one of my personal faves, another Halloween themed product.
It's the Halloween Eyeball Highlighter Eye See You.
This highlighter costs just £5.00! This highlighter is a subtle pink shade that can be used any time of year! The compact is so fun the top of it is SQUISHY! This one is a novelty, but I can imagine like all of Revolution's products it will be absolutely fabulous.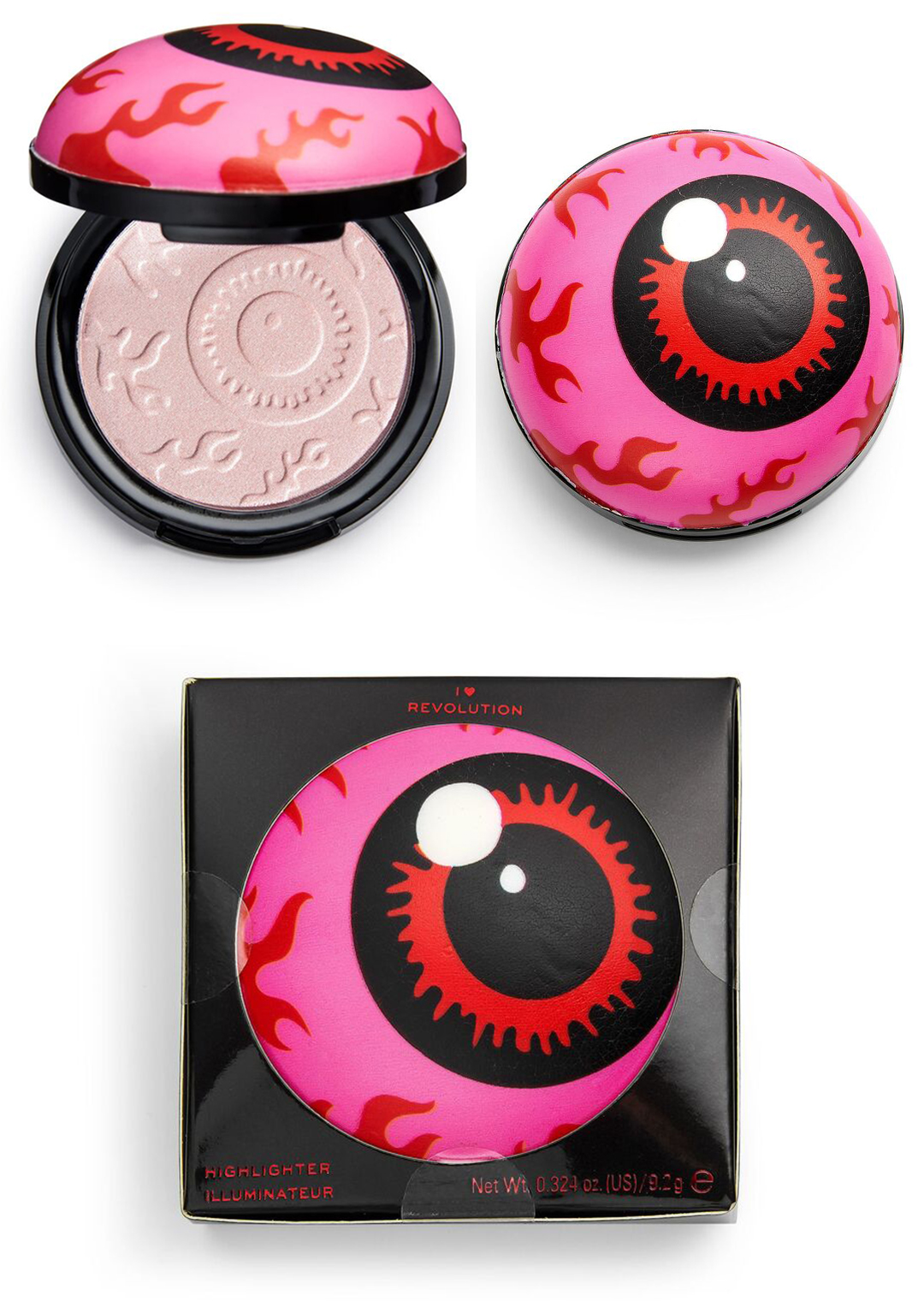 photo ref: https://www.revolutionbeauty.com/
Next, we have the Makeup Revolution SFX Scar Putty
Used by many many special effects artists. This can be used to create new features or scars on the face or body.
This product costs again just £5.00, which is a bargain! This product allows the user to create and sculpt any shape or feature to help create any spooky look imaginable!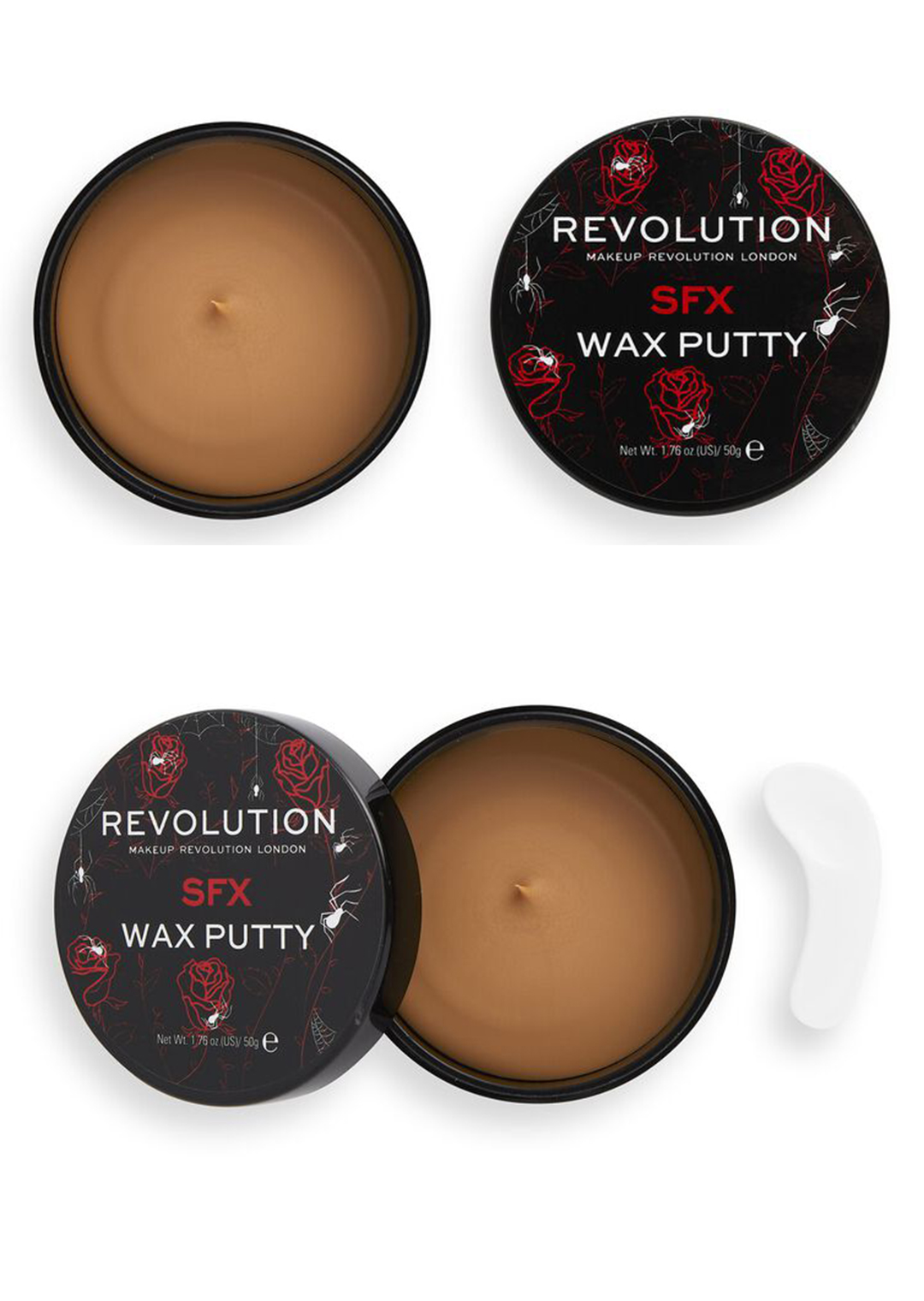 photo ref: https://www.revolutionbeauty.com/
Lastly a Halloween staple! Makeup Revolution's SFX Blood Spray!
What is Halloween if it doesn't include fake blood.
Again at £5.00 this is another bargain by Revolution and can be used on surfaces, clothing and face and body to create a blood splatter effect. There is a warning with this one though! It may stain surfaces and skin so just make sure you're aware of that before you go spraying it all over your house!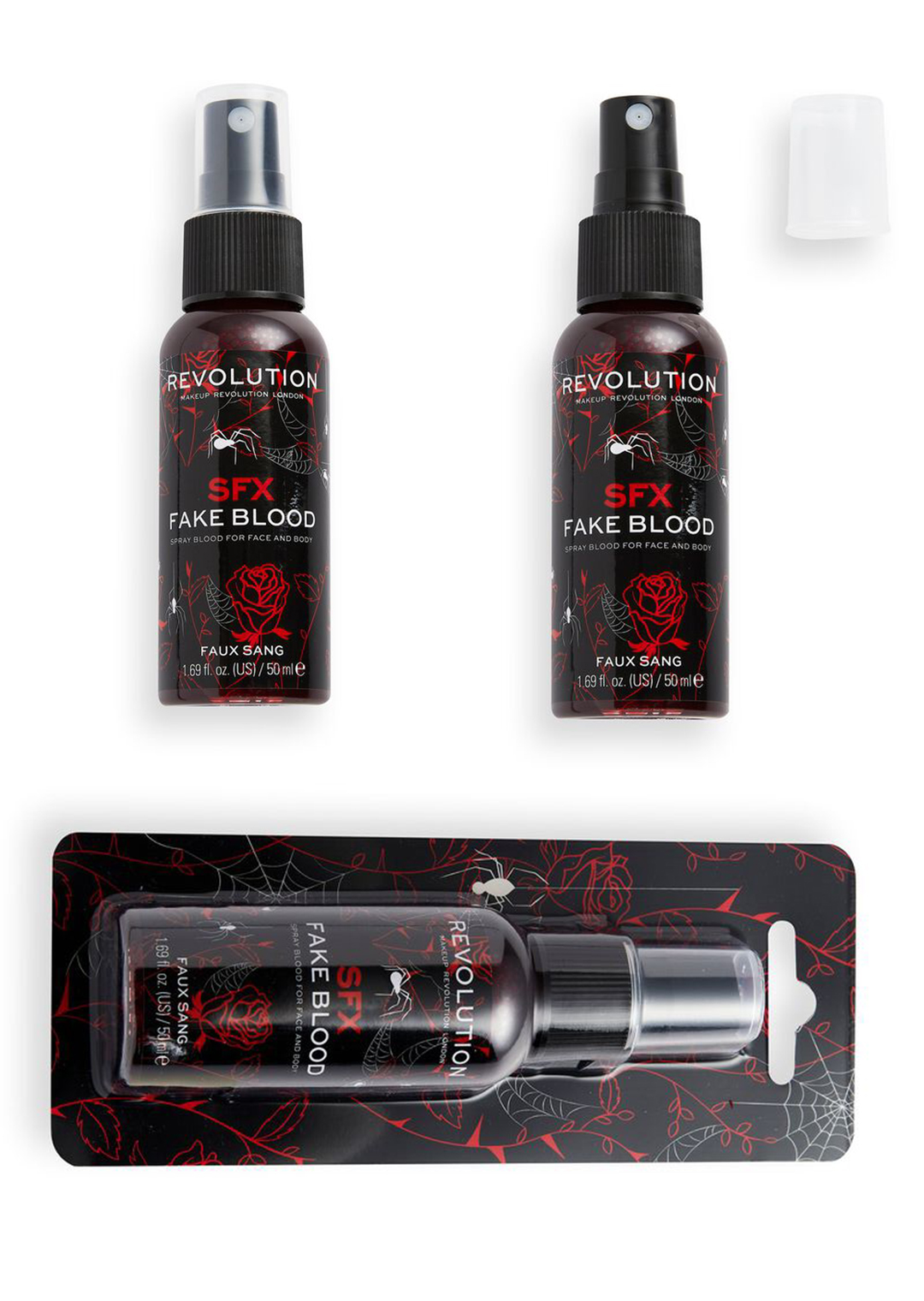 photo ref: https://www.revolutionbeauty.com/
So that's it! This concludes the products that we found on Revolution Beauty that are IDEAL for Halloween time!
800 Slaybucks - Halloween SFX Face Palette - https://lovetoslay.co.uk/shop/halloween-sfx-face-palette
1500 Slaybucks - Book of Spells Eyeshadow Palette - https://lovetoslay.co.uk/shop/book-of-spells
900 Slaybucks - Eye See You Highlighter - https://lovetoslay.co.uk/shop/eyeball-highlighter
900 Slaybucks - SFX Wax Putty - https://lovetoslay.co.uk/shop/sfx-scar-putty
900 Slaybucks - SFX Spray Blood - https://lovetoslay.co.uk/shop/sfx-blood-spray
If you don't quite have enough Slaybucks yet, here are a couple of offers for you: 
Voxi - 800 Slaybucks https://lovetoslay.co.uk/offers/get-endless-social-media-data-with-voxi
Nielsen - 850 Slaybucks https://lovetoslay.co.uk/offers/get-entered-into-loads-of-prize-draws-simply-by-using-your-computer
Go Henry - 375 Slaybucks https://lovetoslay.co.uk/offers/making-every-kid-good-with-money